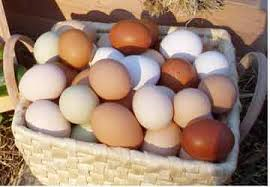 It's officially here, the Central Michigan CSA will offer a farm fresh egg share in 2014.  These will be Strictly Non-Gmo fed layers who will also be pastured during the warmer months.  I'll be keeping around 100 layers here at the home farm and around 500 at a leased farm about 2 miles from here.  They will be mostly Isa Browns with is a brown egg layer that is reliable and consistent.  Due to the fact that layers are machines and can be less than predictable in their production I'm limiting the CSA membership to accommodate the low end of the laying cycle.
Last year we gave our eggs away through our Premium CSA Memberships in the Central Michigan CSA program.  Most all of the members liked the eggs and seemed to want more.  I took the lessons learned and think we will have a very successful EGG membership in 2014.  The Egg CSA will start in late May of 2014 and will run through October.  We will offer another Farm Fresh Egg CSA for the winter next year, get on the waiting list by visiting the Farm Fresh Egg page today. Just leave a comment you want to do the winter share in 2014.
Farm Fresh Eggs For Sale
Because will have around 100 dozen eggs per week extra when the chickens are peak laying we will be offering them for sale at our roadside stands and at the Farm Markets used for pick-up locations for the Central Michigan Vegetable CSA.  Those locations are Midland, Mt.Pleasant, Gladwin, and Clare. Thank you for your continued support, we love the chance to grow your food.
Update:  The 2014 Central Michigan Fruit and Vegetable CSA membership is now open and memberships are filling nicely. If you'd like more than just farm fresh eggs,  we've made room for around 30 more shares for the 2014 season and we will be well past the 2/3 point in our farm goal of 200 CSA members.  You can learn more about our CSA program by visiting the link above, but while you're here just sign up for the CSA Newsletter. It's on the right and just requires a name and email.  You don't have to me a member or become one, you can just get the Newsletter and see how it all works if you'd like.