We've been busy getting our seed orders in and working on our plans for the upcoming CSA season.  I've updated the CSA Membership form for the year and made a few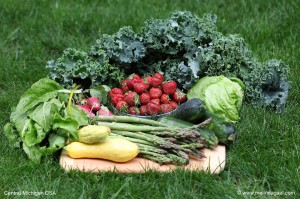 changes to the program based on the end of the year member survey our members filled out.  The prices will be the same as last year and the share options will remain mostly the same with one exception being a 1/4 premium share.  We are currently enrolling new members for each of our pick up locations which are Midland MI, Mt. Pleasant MI, Clare MI, Gladwin MI, and Alma MI.   We are well ahead of last year in terms of new members who have signed up already which is good.  I always try to have some shares available for those who end up wanting to join later, even after pick up's start, but it looks like we may actually meet our membership goal for the year early.  To sign up for the upcoming season and purchase a share in the Central Michigan CSA you can visit the CSA page now.  Follow this link to the CSA page: Central Michigan CSA Farm, The membership form is near the bottom of the page, fill it out and hit submit.  The payment information is listed on and near the form.  We accept checks, PayPal, and credit cards over the phone.
CSA's in Michigan are Growing
Community Supported Agriculture programs (CSA's) are becoming more and more popular in the U.S. and I've noticed considerable new CSA Farm growth in Michigan
over the last few years.  I've also noticed that we have more new members who have tried other CSA's in the past.  Several have been CSA members in other states or towns and are moving to the area, part of their re-locating is to find a CSA farmer.  Others are looking for a CSA that might be a better fit for their family.  I've also notice that many, if not most, of the new members are finding our CSA because a friend has told them about us.  I really appreciate those of you who have referred us to a friend.  This is by far the best way for us to acquire new members, they are some of our most satisfied CSA members as they have already gotten information from you about how our program operates. So, again, I appreciate you sharing your CSA experience with your friends and family!
This season we will be offering four pick up locations just like last year.  Each location will be the same as it was last year and the pick up days will also remain the same.  We are open to adding other locations and we keep that option open to accommodate new opportunities to get our home grown produce onto more dinner tables.  We are currently planning on 200 members and are growing enough produce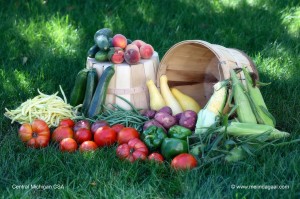 for closer to 300.  We hope to have more "extra" produce this year to offer for sale at local farmers markets where we meet our members.  Last year wasn't the best year in terms of weather conditions,  while our crops did well, we had more demand than we had supply.  You can find all the information for the Central Michigan CSA Farm on our CSA page.  The membership form is near the bottom of the page and you can go ahead and call anytime if you have questions.  Below are the pick up locations, days, and times where we meet members for share pick ups.
Midland MI CSA Pick Up
We meet our Midland CSA members to give them their shares at the Midland Farmers Market by the Tridge during the Wednesday farmers market.  We arrive between 6:30 and 7:00 am and we stay until the market is over at 12:00.   In addition to our members shares, we also bring a good mix and quantity of extra fruits and veggies for the members who have purchased a "Market Style Share".  I expect the Midland CSA drop off to start around the end of May along with each of the other CSA pick up locations.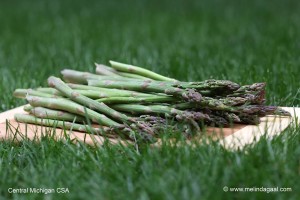 Mt. Pleasant MI CSA Pick Up
Our Mt. Pleasant CSA members meet us on Thursdays at the Mt. Pleasant Farmers Market in Island Park to pick up there shares.  We arrive at 7:00 am and we stay until 1:00 or so.  In addition to your weekly shares we will also have a good selection of additional produce for the Market Share Members and others.
Gladwin MI CSA Pick Up
Our Gladwin CSA members on Saturday mornings in Gladwin at the Gladwin Farmers Market behind the historical village right in the town of Gladwin.  We arrive at the Gladwin market around 7 am and stay until 1pm.  The market actually opens at 9 am.  We will also be bringing a good selection and quality of fresh produce for our market share members and our customers at the Saturday morning market.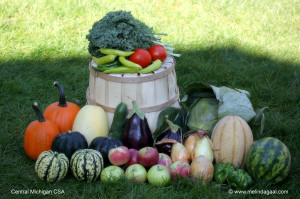 Clare MI CSA Pick Up
Our Clare CSA members pick up their weekly CSA shares right at our farm stand which is just north of Clare on the way to Jays Sporting goods.  Last year we meet the Clare members on Fridays, though later in the season members can pick up their shares most any day.  We arrive at the Clare market around 10 am and we are there everyday of the week.
Over the years I have shared a lot of information about our homegrown produce, our farm and our CSA program.  The CSA page is quite long, but I encourage you to read through it and learn as much as you can about CSA programs and how we run ours.  You can spend some time here on this website and learn more about the food we grow, how we grow it and what we are up too.  Thanks again for supporting the Central Michigan CSA!
I appreciate the opportunity to grow your families food!
J. Crawford
989-284-8251