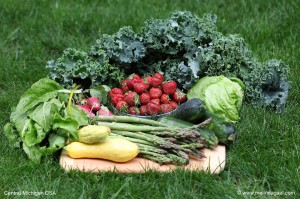 Well it's mid December and things are mostly tucked in and put away for the winter ahead.  It seems like each year I spend a couple weeks in December going over the previous CSA season to get new ideas, make improvements, and establish priorities for the season to come.  I'm a fan of efficiency and productive, so it's great to see how insight and changes from last year impacted our members and improved the CSA this season.   The "End of the Year Survey"  has been a great tool for members to share there experience and suggest changes.  A few members email me throughout the season or call. And then others mention ideas at the weekly drop offs.  Member feedback, by far, provides the most ideas that we can actually implement and improve the program.  I've recent updated the CSA page and membership form if you would like to renew your membership for the 2015 CSA the membership form is up.
CSA Improvements and Changes from Last Year
There were several good ideas we were able to implement this year that started as suggestions from our CSA members last year.  The top complaint last year was lack of communication.  This was because there were two drop offs we cancelled or rescheduled.  This problem was solved by not rescheduling any of the drop offs due to weather.  If bad weather was coming we picked the night before or just left and item out if it couldn't be harvested in the rain.   Last year I would send a reminder text to the members who where picking up their food that day,  some people didn't get the text, didn't use texting, and others I didn't have a number for.  So this year we just didn't do the reminder text,  and it went great.   Another  suggestion we got was to set up in the same location each week so members could find us easier,  we were able to work with the market masters and get a spot we could count on every week.  This was an easy fix and our members, or someone they sent for pick up,  were able to find us each week.
Another concern we received from a few members last year was that the size (and cost of shares) be more distinct.  Sometimes the full share didn't seem to be double that of the 1/2 share, so we made some changes how we packaged the weekly shares and that solved that problem.  Many of the other suggestion we got from the CSA members survey were for specific kinds of produce and getting either more or less of some items.  We tried to communicate to people this year that they could swap out stuff or decline items they really didn't like or plan on eating.
CSA Changes for the 2015 CSA Season
The suggestions and feedback we received this year from the end of the season survey seemed to focus mainly on the actual produce.  A couple people mentioned the felt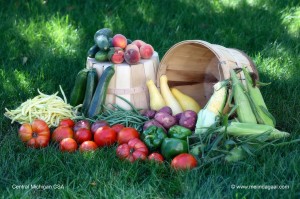 they got too much of certain items.  Zucchini and yellow squash and kale seemed the top items that people felt could be dialed back some.  I think the most productive way to deal with this is to enlarge the variety of the weekly share, I'm working on that currently.  The early season drop offs are the most challenging as far as variety is concerned, but there is room for improvement.  Several people mentioned they would like to see more greens, especially lettuce. We increased our lettuce planting a lot this year, but I don't really feel it was enough.  Lettuce is a good early season crop so I'll focus on that more this coming year for sure.  A couple people also asked about carrots, which I have a difficult time with.  One idea I have for carrots is to grow them in a spot more suitable for root crops.   They just don't do well at all in our current fields.
Another common suggestion/complaint that came up this year was not being able to eat all of the items.  Several people didn't like composting veggies each week.  I've tried to accommodate this issue by offering different share sizes, but apparently it still needs work.  I'll be giving this more thought over the next couple months and should be able to work it out.  I always as members if they feel like they received a good value in terms of money spent, 95% of those who filled out the survey did.  We had a couple crops that didn't do well this year, basil was one of them.  Herbs in general  need more work and the plan is to focus on that early in March.  There are several perennial herbs and I've found a source to get those in the ground early spring.  We are planning on growing the annual herbs in containers this year along with companion planting them in with our heirloom tomatoes which provide a light shade and protection from the winds.  This makes the herbs (and greens) much more tender and keeps them from growing to fast or "bolting".