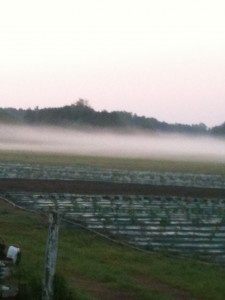 Our produce farm is Located in Clare County Michigan, just north of Isabella County and west of Midland County.  The Farm is 3 Miles east of Clare Michigan, along the Tobacco river. We grow produce on a portion of the 120 acre farm that used to serve as pasture land for a cow/calf operation.  There are three ponds on the farm that range in size from 1 acre to 4 acres that provide ample water for our growing operations.
We are neither conventional famers or commercial farmers in the ordinary sense of the word. We don't have a "main" crop that goes to a processor or grain elevator. We don't do any cash crops and none of this farming has ever been on this property.  We grow food for families around the Central Michigan area and for the visitors who stop by one of our farm stands.  In 2014 we will have 10 acres of certified organic land to use in our produce operation and will continue to transition our other "gardens" into certification.
Produce that We Grow
While we have 15 or so apple trees, a few blueberry bushes and a few thousand strawberry plants, for the most part we grow annual vegetables and melons.  We are developing our fruit growing to serve the members of the Central Michigan CSA, but we buy most of the fruit for our farm stands from local Michigan growers. Here are some of the types of produce we grow here at our farm:
Lettuce
Tomatoes
Cucumbers
Kale
Summer Squash
Cherry Tomatoes
Canning Tomatoes
Green Beans
Zucchini
Butternut Squash
Acorn Squash
Sweet Dumpling Squash
Buttercup Squash
Radishes
Egg Plant
Kohlrabi
Red Beets
Potatoes
Carrots
Onions
Swiss Chard
broccoli
Cauliflower
Brussel Sprouts
Leeks
Green Peppers
Hot Peppers
Asparagus
We also grow several varieties of watermelon and cantaloupe.  We have about 12 different varieties of apples and have several thousand strawberries in our back field.  We also try to grow the most popular culinary herbs. Some of these include:  Chives, thyme, oregano, cilantro, rosemary, mint, etc.  We also have some horse radish roots, and some rhubarb.
We also have laying chickens and are developing a farm fresh egg CSA.  Our chickens are semi free range. We don't let them in the produce fields but they do get pasture throughout the day.
How We Grow
When I think of our produce farm I think of a really large garden, or a couple of them.  We do use some newer "technology" to be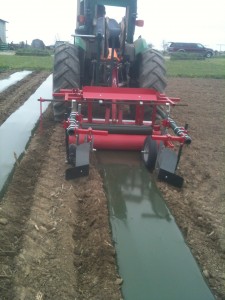 more sustainable, eliminate the use of herbicides and pesticides, and control soil borne disease like blight and powdery mildew.  One of the main ways we do this is to grow on raised, mulch covered, beds that have drip line irrigation  installed beneath the mulch.  This allows us to provide all the water the plants need without creating a wet environment around and on the plant which fungal diseases thrive in.
The key element to sustainable farming is to put more back than you take out.  When a tomato plant produces fruit it pulls nutrients out of the ground and packs them into the fruit.  These nutrients need to be replaced.  There are several ways this is done depending on the cycle of the growing season.  One of the keystones is cover crops.  Things like winter wheat in the off season or oil seed radishes and clover provide cover to help reduce weed pressure, they build biology in the soil and replace nutrients when they are left to decay under the soil.  Organic certification in itself does little to produce nutrient rich food, it takes smart farming.
We use natural fertilizers and stay away from nitrate based, or high nitrogen, fertilizers. Giving the plants what they need when they need it is key to growing great vegetable plants.  Producing nutrient rich, great tasting tomatoes and other produce is all about providing nutrients the plant can use when they need it.  Several of our products are sourced from the ocean which is amazingly nutrient rich. It is much like our land use to be.  After years of taking more out than is put back in the land has morphed into a formula of inputs in equal output. I straight up "use" of the land. It isn't sustainable and it's starting to show.
Sprays
Spraying isn't a whole lot of fun and I've never understood why more people don't do the things necessary to avoid spraying as much or all together.  Healthy plants can handle pressure form pests, so growing healthy plants is key to dealing with pests.  We don't use any contact killing pesticides on anything we harvest for human consumption.  We occasionally do what we call trap plantings.  Essentially we spray a deterrent on our real crop also plant a small plating of various vegetables with no deterrent.  The bugs (usually squash bugs) will flock to this area and we then kill them.  Another great way to protect plants from pests is to put row covers over them.  These help protects plants from early cool temperatures and also keep the early season pest pressure in check.  I've learned that if I can get my plants through June I've solved about 80% of my bug problem.
Developing the farm is an ongoing process.  Like many endeavours, it started small and continues to evolve and interest grows and new ideas spring forth.  Right now we grow food for the Central Michigan CSA, Our Farm Market, Community Farmers Market, and a small portion of wholesale produce meant to be resold by others.  Some of our upcoming plans include raising grass feed beef distributed in smaller portions via a CSA program, raising laying hens and offering eggs to the public, also producing maple syrup and raw honey.
Plans for our Produce Farm
I've been toying with the idea of creating a U-Pick Produce Farm on a portion of the property.  We get a lot of folks asking if we have U-Pick available so we have been researching the idea over the past year or so.  I will provide more updates on that as it develops.  The main focus of the farm has been our CSA program.  That is the core vision of the farm and will continue to be so into the future.  It is very rewarding to grow food for people in the Central Michigan area and our goal is to grow food for 200 families who become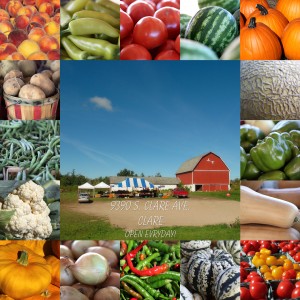 members of the  Central Michigan CSA.
From the beginning we have looked at our farm and our growing operation as a really big garden and we grow just like that.  Our family eats the same produce we offer to our CSA members and Customers all season long.  We also can and freeze the same food for the long winter months where getting good chemical free fruits and vegetables can be difficult.  We use natural organic growing methods and stay away from genetically modified seeds and plant varieties.  Our Chickens have a nice open area to forage and do the things chickens wish to do.  They have a large chicken coop to keep warm in during the cold winter months.  Our beef have free range of ample acreage and healthy pasture grass to eat all summer long and have all the hay they can eat available 24/7 during the winter.
We let people know they are welcome to visit the farm and see their food growing.  2013 Was the first year for our Farm Day for our CSA members and we hope to extend that to folks who love getting their produce from one of our Markets.  The ponds in the back provide a great area for family friendly get together that include fishing, volleyball, camping and nature walks.