The 2016 Central Michigan CSA Farm membership is now open and in full swing for the upcoming harvest season.  Once again the CSA will be available in Midland MI, Mount Pleasant MI, Clare, Alma and Gladwin MI.  You can find the details for the CSA program on the "2016 CSA Shares Sign Up Page" in the navigation bar or follow this link: Central Michigan CSA Farm
We will also be offering limited Farm Fresh Egg shares to our members.  There is a box for that in the membership form near the bottom of the page.  We will also have some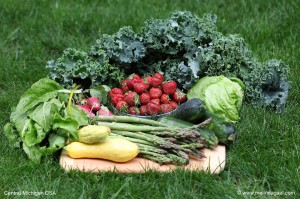 eggs for sale as they come available. The dates, times and locations of the CSA shares can also be found on the "2016 CSA Shares Sign Up" page.  If you should have any questions, just send a note via the contact form on the top right corner of this website.
The Central Michigan CSA
We expect to feed about 200 hundred families in the Mid Michigan area this year through the CSA program, which is our version of a Farm Co-Op.  This will be our 7th year operating the CSA program.  You can learn more about he farm, how we grow, and what the CSA is all about on the page listed above.  We also have an open air farm market on Old 27 on the way to Jay's Sporting goods with is just north of Clare. If you have any questions you'd like answered right away, feel free to call me directly: My phone number is 989-284-8251 ~ if I don't answer I can usually call back within a few minutes so just leave a message.
Accepting New CSA Members
We estimate that we will be accepting around 30 new members this year and this will be first come first serve so get signed up and we will see you in the spring. We are hoping for a good spring and an early start date.  The CSA last between 18-20 weeks. Last year we were able to start the second week of June and had a nice mix of produce for our first few shares. The program goes into and some years all the way thru October, depending on when we can get started.
We appreciate the opportunity to grow your families food.
Thank You,
J.Crawford