I've spent the last couple weeks researching the best beef breeds for healthy meat that do well on grass only.  I have it narrowed down to a few breeds and I'm waiting to hear back from a couple beef farmers in the central Michigan area and saginaw bay area.  They both raise and sell grass fed beef in the central Michigan area and near Midland Mi and I'm really looking forward to talking with them directly.  Our CSA Farm is in Clare Mi, which is just west of Midland and North of Mt. Pleasant, we've been growing produce for several years now.  The farm was a cow/calf operation for many years before I started growing Produce.  We raised herfords and semital cross mostly and the last few years we raised some angus as well.  My dad has sinces sold the cows and now we usually have less than a half dozen or so for personal consumption.  We butcher a couple beef and 4 or 5 pigs each year,  this is my parents' Christmas present to their Kids and Grandkids.
What is The Healthiest Beef You Can Eat?
Over the last several years it has become apparrent that most of our Central Michigan CSA farm members are primarily concerned with healthy foods.  I know this by the questions they ask and by the fact that they re-new their memberships each year.  For the most part they choose to have me grow their food for them for two reasons:  They know I'm committed to growing food naturally and they know it's fresh.  I don't use GMO seeds and use natural fertilizers, crop rotations, green manure, and water efficiently from ponds here at the farm.  So when I look for the best grass fed beef breed to raise for my members I'm looking for the breed that can develop GOOD meat on grass alone and one that produces meat that shows the best health characteristics naturally.  I like products that sell themselves.  I don't have the time to try to "make things pretty" for folks wanting good food.  It's pretty simple. If they try the stuff I produce and like it, they will be back year after year and my farm plan counts on that.
If you are interested in buying quality grass fed beef from us at a fair price, fill out the form below and let me know.  I would like to get an idea of the type of interest over the next few months or so.  This gives me a good idea how to approach herd management. Thank you. NOTE: this isn't to become a member of a Beef CSA or even to purchase meat, this is just to express interest, that is all.  By filling out the form you will be put 1st on the list and I'll get in touch with you.  Thanks again!
Through my recent research, both online and on the phone, one breed seems to stand out above the rest.  There are a couple other breeds that are sourced mostly from out of the country, but they aren't very accessible for someone here in Michigan want to raise some healthy grass fed beef.  The Scotish Highland breed has many health benifits and it does well on grass and forage alone.  Below is some more information about one of the healthiest breeds of beef that make for one of the best grass fed beef  operation like the one I am interested in.
Highland
Highland beef meets the demands of today's consumer. Scientific tests of Highland beef carried out by an independent professional laboratory** proved that Highland beef is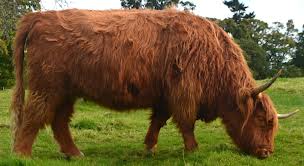 lower in fat and cholesterol. In fact, Highland beef rated lower than buffalo, pork, lamb and chicken. This is due in part to the double layer coat which replaces the thick layer of fat most other breeds have for insulation. Highland beef is lean, flavorful, well-marbled meat with little outside waste. Even the Queen of England has her own herd of Highlands at Balmoral Castle in Scotland. (Source)
Despite their horns, Highlands are gentle and easily handled when treated properly. They are known for their quiet dispositions, superior intelligence, and do not stress easily. Even older bulls tend to be calm and easy-going.
Studies in the UK list the quantities of fat per 100 grams as:
FAT CONTENT Highland Beef Overall 4.5 g/ 100g   –  Other Breeds Beef Overall 15.6 g/ 100g
CHOLESTEROL CONTENT Highland Beef Overall 40.9 mg/100g   – Other Breeds Beef Overall 64.3 mg/100g
PROTEIN Highland Beef Overall 20.7 g/100g   – Other Breeds Beef Overall 18.6 g/100g
IRON   Highland Beef Overall 2.1 mg/100g   – Other Breeds Beef Overall 2.0 mg/100g
Pretty impressive isn't it?  One of the main reasons this breed is so healthy is because of the thick hide and long hair.  Because of this trait the Highland beef don't store as much fat around and in the mucle throughout their body, they just don't need it.  They come from a colder climate and when raised here the store even less fat.  Several articles I've read compare the health of the meat to that of Chicken!